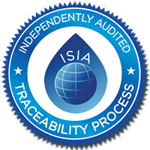 Life Science Group is ISIA Traceability Certified
What does this mean?
As a processor and supplier of animal serum products (including Foetal Bovine Serum), LSP is both a member and contributor to the International Serum Industry Association (ISIA).
Life Science Group is also ISIA Traceability Certified.
The primary aim of the ISIA is in the safety and safe use of serum and animal derived products through proper origin, traceability, truth in labeling and appropriate standardization and oversight. You can be assured that Life Science Production takes all necessary steps to ensure that our serum products are exactly what we say they are.
The ISIA was founded in 2005 and membership consists of industry experts collecting, processing or using animal serum and animal derived products. Animal serum and animal derived products continue to play a vital role in growth of cells in culture for research and in the production of diagnostic kits, vaccines and biotherapeutic molecules. Ethical, reliable and sustainable sourcing is crucial in allowing these practices to continue.
ISO 9001:2015 Certified
LSG is ISO 9001:2015 certified for the contract filtration and contract supply and manufacture of media, buffers and other biological materials.
Currently, Life Science Production runs Class 5 clean rooms validated to ISO 13408-7:2012 guidelines for the aseptic processing of healthcare products that cannot be terminally sterilised. Processing of animal and human materials are handled in dedicated clean rooms. BS EN ISO 13408-7:2012 : Aseptic processing of health care products – Part 7: Alternative processes for medical devices and combination products.